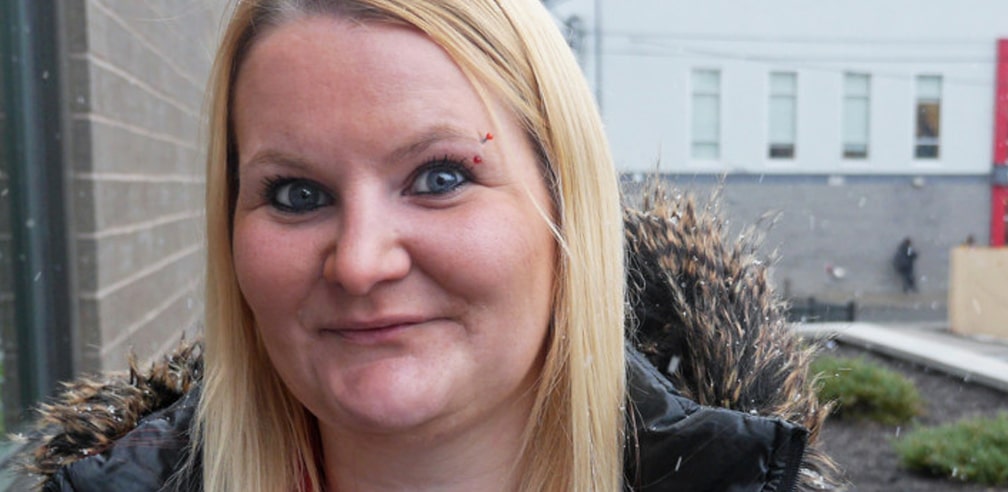 The Power of Believing
Ashley wasn't a stranger to the Rescue Mission. Addicted to crack cocaine, she usually showed up to the Rescue Mission's emergency shelter to rest after a bender that sometimes lasted four or five days. Back then, Ashley was only interested in chasing her next high.
But this time was different. When Ashley walked through the doors of the Rescue Mission, she was malnourished and withdrawn, a 90-pound shell of a woman. She had just been released from jail and had reached a new low.
Ashley's childhood was a happy one. She was raised in Central New York, and recalls growing up in a good home with both of her parents. But when she was 15 years old, things began to take a turn. She started dating a man who was 22 years old. They later moved in together.
"I wanted to grow up too fast. I just wanted to be on my own. "
Ashley
A Toxic Relationship
When she moved out, Ashley began smoking marijuana and eventually experimented with and became addicted to crack cocaine. Ashley says she and her boyfriend were abusive toward each other and their drug use created a toxic relationship. In eight years together, they had two children. Ashley says she stopped using drugs for a few years once she became a mother, but eventually relapsed and returned to crack.
Ashley struggled to find work and began stealing to support her addiction. She did several stints in jail and lost custody of her two young children. With her children gone, she attempted to turn her life around. When she achieved eight months of sobriety, she was able to bring her children back home. Her success was once again limited. Ashley let her guard down, and allowed herself to plunge even deeper into her drug addiction. Soon she was shooting cocaine and heroin.
"Something really clicked in me; I knew that I just did not want to go back to that."
Ashley
Walking Through the Doors for a Final Time
She landed in jail and again lost custody of her children. Upon her release three weeks later, she found herself at the doors of the Rescue Mission for the final time. She was on probation, and Ashley says she knew if she continued on the same path she'd end up back in jail.
"Something really clicked in me that I knew that I just did not want to go back to that," she says. "I don't know if it was from praying to God or everyone else praying for me. I finally didn't want to do it anymore."
Ashley entered an outpatient treatment program to receive help with her addiction. She stayed at the Rescue Mission shelter for six months and remained sober. She says her case manager supported her tremendously and believed in her from the beginning.
A Bright Future Ahead
The Rescue Mission helped Ashley find an apartment. She finished her probation earlier this year and has reconnected with her children. Ashley is working to address a panic and anxiety disorder with the goal of finding employment in the future. Today Ashley is a different person. She celebrated two years sobriety in October. She's lived in her own apartment for 18 months and reunited with her children.
Ashley was honored in November at the annual Hope Awards and is looking forward to spending Christmas with her kids. She says her family is proud to see the changes she's made in her life.
"They all knew I had it in me, everybody did but me."
Put Your Love into Action.
Give the gift of help. Your support can help provide new beginnings every day for men and women like Ashley.