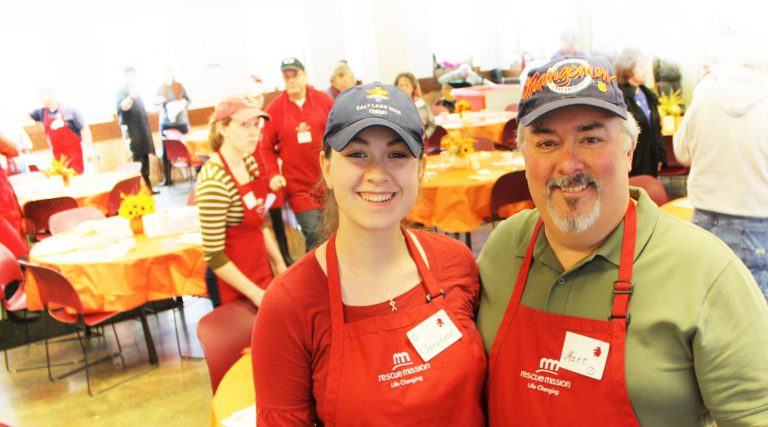 Volunteers are the heart of the Rescue Mission
Every year, more than 4,000 volunteers give more than 120,000 hours of their time to help the Rescue Mission end hunger and homelessness in our community. Truly, we could not do our life-changing work without them!
Opportunities based on your interest
Whether you want to give just a few hours or are looking for long-term involvement, whatever your skills and interests, there are many opportunities to help the Rescue Mission!  Over the past year, volunteers have helped at our Thrifty Shopper stores, at our special events, serving or delivering food, constructing housing, in our administrative offices, and more.  Our Volunteer Services staff will coordinate with you or your group to find a great fit. (To get started, click the "Apply Now" button below!)
Opportunities close to home
The Rescue Mission has volunteer opportunities in Syracuse, Auburn, and Binghamton, as well as at our Thrifty Shopper stores, which provide a critical source of revenue for our programs. However you choose to help, you are making a difference in the lives of some of the most vulnerable men, women and children in our community.
For more information, contact Braden Miles at 315-701-3109.
Apply to Volunteer
For questions about our volunteer opportunities, please email Braden.Miles@rmsyr.org
Individuals
Click below if you're interested in volunteering as an individual.
Families
If you're interested in volunteering as an entire family, please click below.
Groups
We welcome organizations, schools, and other groups to volunteer!
Required Service
Seeking an application for Required Volunteer Service? Please click below.