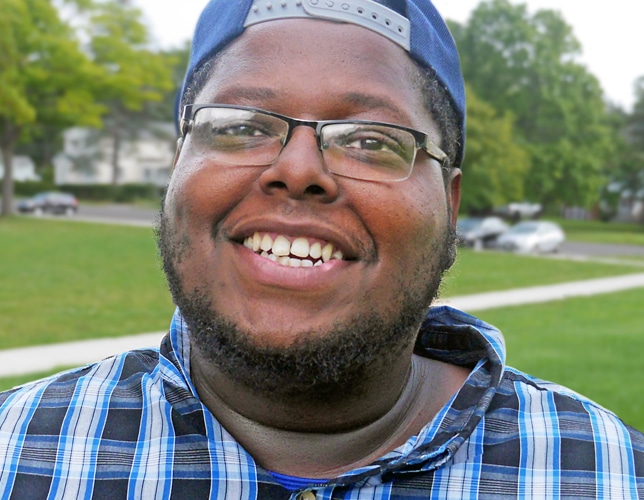 "I Got the Help We Needed"
Reeling from a broken relationship, Wayne suddenly found himself homeless with his young son.
"It was very hard. My family was split apart and I had to take care of my son, and get him into a safe environment," Wayne said.
With no other choice, they stayed with Wayne's friends. He applied for assistance, knowing he needed a long-term solution.
"It wasn't even couch surfing. My son slept in a recliner and I slept on the floor," he said. "My son would ask 'when are we going back home? Is mommy home?'
"It made me so sad that he didn't understand and I couldn't give him what he needed."
Wayne
Wayne and his son were eventually placed in a local hotel by social services. Although there was a bed for each of them, they were confined to a small single room. He and his son were kept awake by neighbors arguing loudly in adjacent rooms and noise in the parking lot at all hours. Food was a struggle as well. With only a small refrigerator, Wayne relied on local soup kitchens for food. He gave his son most of the food, while he would often just sip chicken broth from a can to take the edge off his own hunger.
"It felt like an eternity being in that hotel room," he said. "It was very stressful because I didn't know how long we would be there or what the next steps were." 
But thankfully things began to turn around. Wayne was notified that there was a housing unit for him at the Rescue Mission in Auburn. "This new apartment was paradise," he said. "It was so clean, and there was a washer and dryer, which was a blessing after hand washing our clothes in our hotel room tub. I was in disbelief when they told me we could be here for a while, and I was happy we could be settled."
After a year at the Auburn Rescue Mission, Wayne still feels like it was only yesterday that they were couch surfing, and in that tiny hotel room.
Wayne is thankful for all of the blessings that have come since those hard times, including the support of the Auburn Rescue Mission staff. And he's looking forward to Thanksgiving, one of his favorite holidays, and celebrating with family.
"I remember where I came from and look where I am now," he said." I have family in my life, good health, and a roof over my head. God has given us what we need and I am happy with that and rich in my own way."
Interested in helping others like Wayne?
You can put love into action by giving a financial gift today!