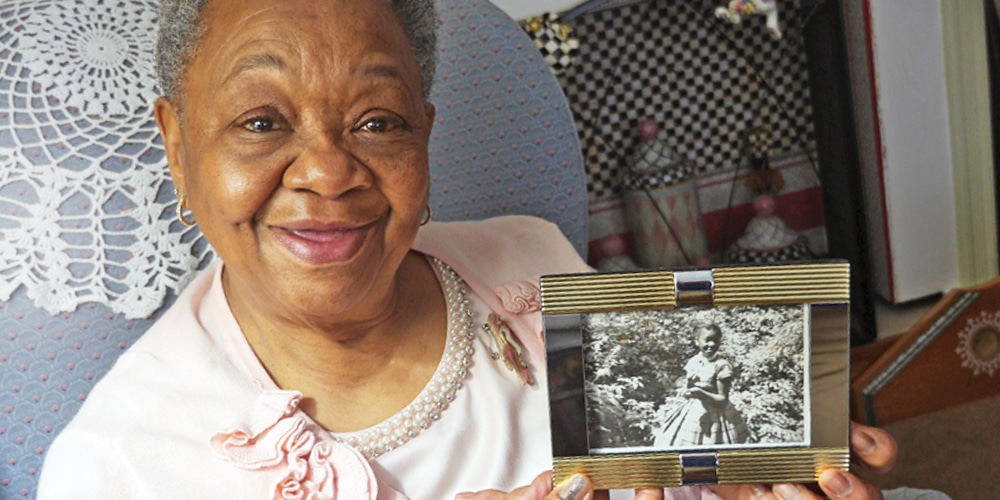 "The Faith of a Child"
In a soft voice, Gloria begins recalling her childhood growing up in Syracuse.
Her memories of the days living on the west side in the housing projects are as clear as if they happened yesterday, even though some 70 years have passed by.
"We moved from the east side," she said. "It must have been my parent's nightmare – one bedroom, the houses were rat infested and we had a coal burning stove."
Despite financial hardship, Gloria says her parents taught her to do her best and treat folks well. Her parents taught her and her four siblings to always give what they could to their neighbors. "We had little but we also had a lot," she said.
It was while living on the west side that her family first connected with the Rescue Mission. She remembers being outside playing hopscotch with her sister, when two women came by.
As her sister ran to the house, Gloria quickly said hello, grabbed a flyer from the two women and then also ran back to the house. That leaflet was an invitation to Sunday School at the Rescue Mission storefront.
A young child at the time, Gloria had no idea then how much of an impact the Rescue Mission, and especially her Sunday School instructors, including Gretchen Ramsdell and Mildred Lindsey would have on the rest of her life.
Gretchen Ramsdell was brought onboard at the Rescue Mission to start the Mission Sunday School services and other children's services. She worked with Mildred Lindsey to canvas the homes in the nearby neighborhood for children with no church affiliation who might attend the Mission Sunday School. "Daddy said we could go, but we better not act up when you get there," Gloria said laughing.
Picture 1: Gloria as a young girl at a Rescue Mission Camp 
Picture 2: Gloria (left) and another girl sing at the Rescue Mission Sunday School 
Picture 3: Gloria's daughter enjoys the bus ride to Rescue Mission's Camp Id-Ra-Ha-Je
She recalls walking over to the Rescue Mission storefront on Tioga and Marcellus Street for Sunday school classes and how much she loved singing the songs and being part of the Sunbeam Club. During Vacation Bible School they would go to the Rescue Mission for two or three days, and sit in the yard outside under the big trees.
As part of the children's programs at the Rescue Mission, the children would also attend summer camp. Gloria remembers the "big yellow cheese bus" picking up everyone up for camp, and packing her belongings inside a pillowcase. "It was so wonderful to go to camp," she said.
Camp was one of the few places there were white and black children and everyone always got along. 
"We would have morning worship, rest time and devotions," she said. "We would get a dollar bill at the end of each year if we could say the books of the Bible."
The child's faith that was strengthened through those programs would help carry her through difficult times, including having her first child when she was in her teens, which in turn led to her running away from home. She found her way to Vermont and a family helped her finish high school, and nursing school, while she juggled being a young mother.
Gloria kept in touch with the teachers from the Rescue Mission, even while she was away, and reconnected with them when she returned to Syracuse. She named her youngest daughter after a Rescue Mission Sunday School teacher. Years later, her own five children would benefit from attending Camp Id-Ra-Ha-Je, the Rescue Mission summer camp in Otisco. Gloria remained involved by working at the camp for two summers as a nurse, and a few of her grandchildren had the opportunity to attend the camp years later.
Despite the many struggles, Gloria says she has been blessed.  All of her children have found success in their careers, and the family has grown to include 23 grandchildren, 24 great-grandchildren and 2 great-great grandchildren.
" "It was a struggle and it was hard at times but we made it - All glory and blessing from the Lord," "
Gloria
Interested in helping others like Gloria?
You can put love into action by giving a financial gift today!