Outreach – Meeting Individuals Where They Are
Whether someone is coming through our doors for the first time, or trying to survive on the streets, the Rescue Mission meets individuals where they are. The Rescue Mission Homeless Intervention Services (HIS) Team provides mobile outreach to individuals experiencing homelessness, offering to bring them to shelter, and providing food, water, clothing, blankets and other support.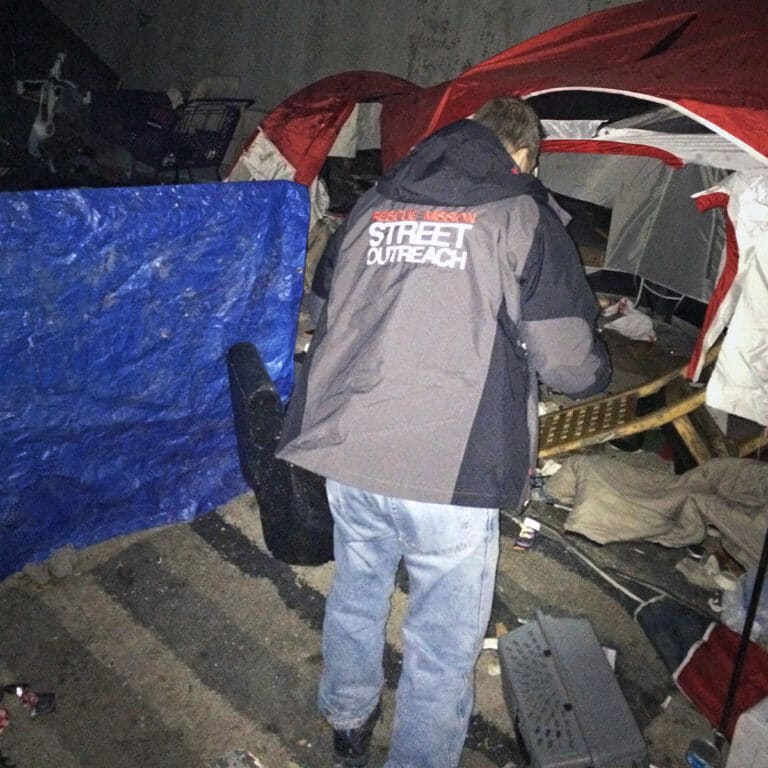 Services provided by HIS Team
The Rescue Mission HIS Team is the ONLY full-time street outreach program in Onondaga County, meeting with individuals experiencing homelessness outdoors six days a week. Our trained team of case managers:
Respond to 211 calls regarding individuals experiencing homelessness.
Check known encampments and abandoned buildings in search of individuals living outdoors.
Build rapport and trust with individuals experiencing homelessness to move them into safe shelter or rapid rehousing.
Provide hot meals, clothing, blankets and necessities to individuals living outdoors.
Connect individuals experiencing homelessness with medical, mental health, and substance abuse providers.
Transport individuals experiencing homelessness to important social service or medical appointments.
Will's Story
The Rescue Mission HIS Team helped Will off the streets and get the help he needed to beat his addiction.
Watch Will's Story below:
Provide a Gift to Help Individuals Living Outdoors
Put love into action with a gift to support our programming, including the HIS Team Street Outreach.