"His brightest days are just beginning."
Walter started using drugs at 11 years old, experimenting with marijuana and then cocaine. His addiction followed him through adulthood; as a result, Walter lost everything – his relationships, contact with his children, his home. It was hitting this rock bottom five years ago that caused Walter to pause. "Thirty years of hard drugs takes a toll on you," he says. "It destroyed me mentally, it destroyed me physically, and it's catching up to me."
Walter realized he had to try something different this time. He decided to surrender, giving himself to the Lord. "God has a plan, he's going to turn this around," he recalls. He prayed to God, "You are the ultimate physician. You heal and can restore my life to what You have planned for me."
In 2019, newly sober, Walter came to the Binghamton Rescue Mission. He knew this stay would be temporary – he came with goals. He wanted a home of his own. This past September, Walter finally moved into his own place. For the first time in 23 years, Walter was not dependent on someone else for his housing. "What a feeling," he exclaims. "And it's not just a place, it's a place I prayed on, and God provided."
Walter still struggles with cravings, his addiction lurking in the shadows. But he says he cannot let these urges take over. "I cast it away to the Lord as soon as it happens, it's usually gone within minutes." God first. Sobriety second. Family third. He credits his success with this prioritization – five years of sobriety.
This Easter, we reflect on Walter and all of the individuals we serve at the Rescue Mission. The struggles they face, such as addiction, homelessness, and poverty. Each obstacle seems impossible to overcome.
But Easter marks the promise of new beginnings. Jesus told his disciples to "consider the lilies of the field, how they grow…" (Matthew 6:23). He reassured them that if God cares for the smallest creations: the lilies, the grass, the birds – then surely God is here to care for us. The Rescue Mission is here to help provide that care; to help anyone in need achieve their new beginning. Walter expressed his gratitude for the help he received at the Rescue Mission on his journey, and the help extended to others.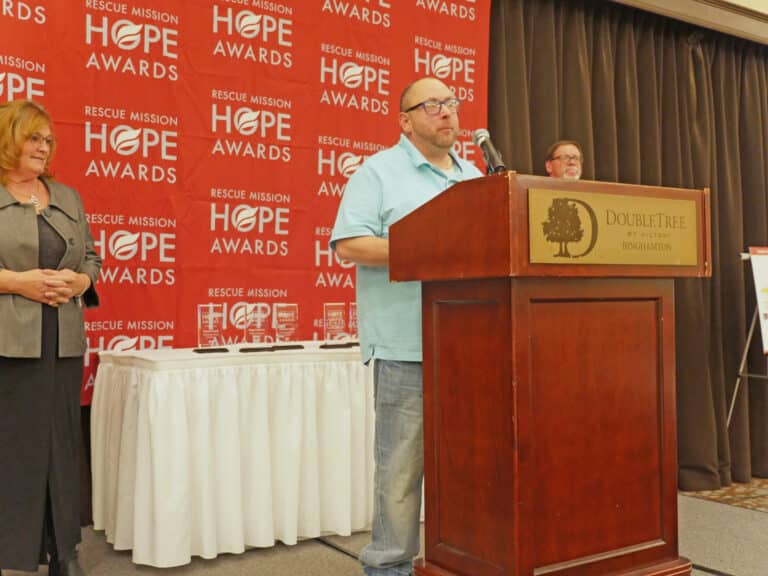 "Thank you for your blessings. [For] having a vision of what this place can do. There are a lot of people out there that struggle. But you make it possible for us to get back up and start life over again. Sometimes we just don't know a way out. You guys are the way out."
Walter
Sometimes the way out is a hot meal. Sometimes the way out is a warm bed. But always, the way out includes compassion and love. LOVE IN ACTION.
Interested in helping others like Walter?
You can put love into action by giving a financial gift today!