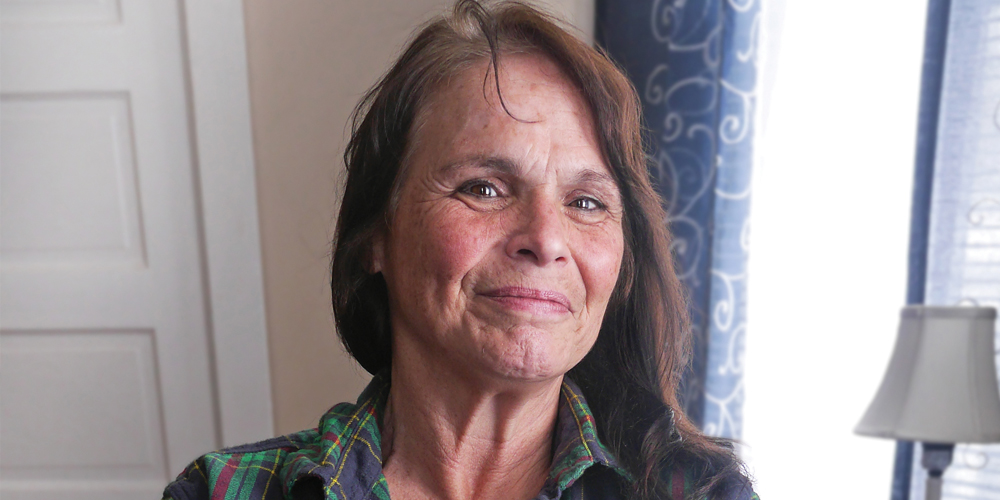 A Place to Call Home
For Joan, life has always been a series of ups-and-downs.
Traumatic experience and illness led to addiction. Joan's addiction led her to the Rescue Mission.
Joan's history seemed to repeat itself. As a child, her father left, leaving Joan and her mother alone. As an adult, Joan's husband left, leaving her to raise her two children as a single mother. It was challenging, but Joan remembers a good life with her two boys. A negative medical diagnosis changed everything. Joan was unable to work, and her medications led to dependency. Joan says she found herself going off the deep end.
"Things seemed to be happening, like I couldn't afford where I was living, so I would get evicted, and I lived on the streets for a little while," she recalls. She found her way to the Rescue Mission.
At the Rescue Mission, Joan knew she needed to take the next steps to put her life back on track, including finding a place to call home. Her Rapid Re-Housing case manager, Valerie, was there to help.
The Rapid Re-Housing program helps individuals get back on their feet and transition to independent living.
The program pays for an individual's first and last months' rent, and partially funds the second and third months' rent. Beginning in the fourth month, the client is responsible for the full rent payment. Individuals chosen for the program must meet specific criteria before receiving support.
After receiving approval for the Rapid Re-Housing program, Joan began searching for a new apartment. Looking for a place she could afford was a challenge, but she was determined.
"The rent is very expensive out there for people on a fixed income," she notes.
"This is a great program and I wouldn't have succeeded without it."
Joan
This November, after a six-month stay in the Rescue Mission women's shelter, Joan finally had a place she could call her own. She moved into an apartment located in a stately, older house on Syracuse's west side. In addition to her rent support, Joan still receives visits from Valerie to assist with the transition and to help with paperwork, vouchers, and other red tape that can be hard to manage. Since November, Joan is one of 20 people the Rescue Mission has moved into a home because of the Rapid Re-Housing program.
Now that she has been in her apartment for several months, Joan is settled and happy.
She received donated furniture and found a like-new living room set on Craigslist. She refurbished an old wicker baby carriage and displayed it under her large sunroom windows. The sunroom faces northwest and is very pretty, especially at sunset.
Joan likes her new neighborhood and enjoys listening to the children playing outside. With spring just around the corner, she is looking forward to planting flowers and gardening in her yard.
Content with her new path, Joan is thankful for the Rescue Mission and Rapid Re-Housing for getting her this far. "This is a great program and I wouldn't have succeeded without it," Joan says, confident in her future.
Interested in helping others like Joan?
You can put love into action by giving a financial gift today!