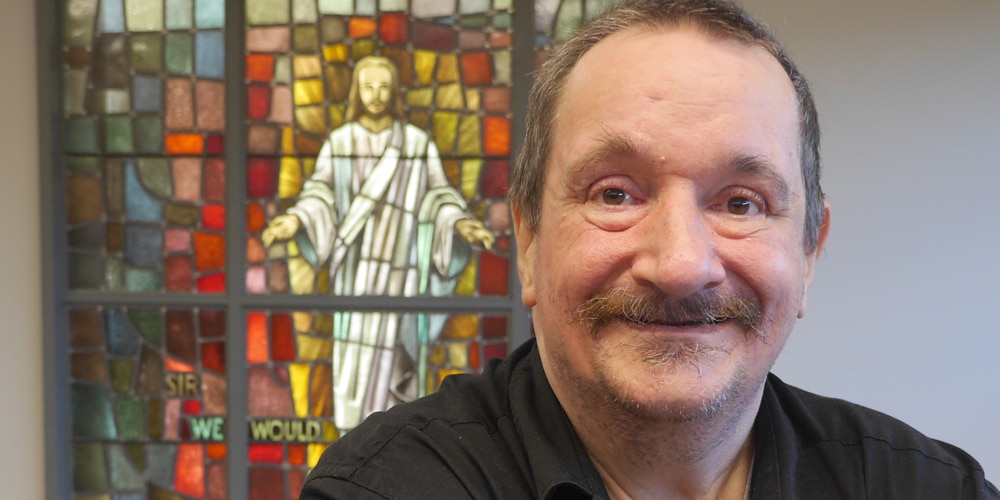 "Patrick Found Peace at the Rescue Mission"
Like many who come to the Rescue Mission, Patrick came seeking support and a safe environment. He was a victim of domestic abuse, and he struggled with alcoholism. "I have a long line of alcohol abuse, I had been an alcoholic for almost 20 years," he said.
Patrick was familiar with the Rescue Mission, from his days volunteering with his brother in the mailroom. He knew the Rescue Mission would be a safe place to start healing, with people he could trust.
Since 2009, Patrick has called the Rescue Mission Crossroads Program his home. The Crossroads Adult Home has 59 units, and currently houses 48 formerly homeless men who struggle with mental and/or physical health challenges. Crossroads offers long-term supportive residential care, meals and snacks, housekeeping, laundry, assistance with the self-administration of medications, 24-hour staff support, case management services, and structured activity programs. Residents may also attend campus chapel services. Crossroads is a community!
After a few months at Crossroads, Patrick, like many of its residents, was able to practice better self-care, and enjoyed interacting with others. He was able to participate in activities that he once thought were impossible. Crossroads not only provides stability to its residents, but the confidence needed to lead a healthy and balanced life.
Crossroads is the only adult care facility within Onondaga County to address the unique needs of Rescue Mission residents. Without this program, many of these men would find themselves back on the street. The program fills a gap that exists within this population, and demonstrates that stable housing can be the first step toward independence and responsibility.
When asked what he would say to the program's generous donors, Patrick replied –
"Thank you very much for your help, God bless you, I am very happy here. Your generosity helps keep me here."
Patrick
We at the Rescue Mission are fortunate to have the support of such a compassionate community. Thanks to your generosity, we are able to put love into action every day, providing the support and services that are needed by men like Patrick.
Interested in helping others like Patrick?
You can put love into action by giving a financial gift today!