"I am alive because I am living at Crossroads."
What is Crossroads?
Located on the Rescue Mission's main campus in Syracuse, NY, the Crossroads Adult Care Facility provides housing for up to 59 men over the age of 25. Many of the residents were previously homeless and live with mental or physical health challenges. Crossroads is the only adult care facility in Onondaga County that affords residents the ability to transition from homelessness to long-term housing with unique programming that provides a level of stability for residents.
Each resident has a single or double occupancy room, and they share common areas. Services include case management, three meals a day, and staffing around the clock. Crossroads residents are assisted with medication management, healthcare coordination, all transportation needs (including rides to medical and mental health appointments), and social activities.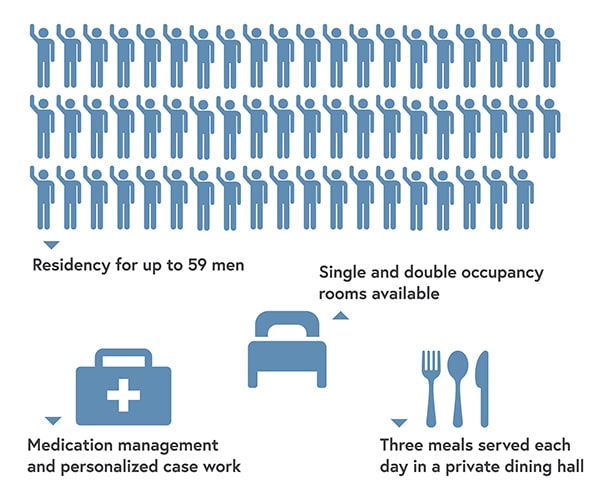 Upon entering Crossroads Adult Care facility on the Rescue Mission campus, you are sure to be greeted by residents with a warm smile and friendly "hello" as they welcome you into their home.
As you walk into the common area and main dining room, you are likely to hear conversation between residents as they gather for a snack or meal. Other residents may be watching television or in the lounge enjoying a game of pool.
Crossroads is aptly named because the men who reside here are often at a crossroads in their lives when they arrive. Although each resident has a unique story– some were doctors, professors, or musicians; many also struggle with a mental health diagnosis, unable to live completely independent lives. Here, all of them have found stability and a place to call home. If not for Crossroads, these men could be living on the streets, in a shelter, or in a psychiatric institution.
A sudden eviction led to Roland's journey to Crossroads. With nowhere to go, he ended up at the Rescue Mission's emergency shelter. Last November, he moved from the emergency shelter into Crossroads.
"(I) used to walk to the Food Service building and would look over at Crossroads. I didn't know what the building was, but I found out more through a staff member. I feel more settled in here and have my own room."
Roland
Since arriving in November, he has celebrated both Thanksgiving and Christmas with his new friends, and is looking forward to the summer carnival. He recently participated in the billiards tournament that was organized for residents. "When I first toured here I saw the pool table. I said, 'when I move in there, I am going to play pool sometimes'."
Crossroads is currently home to 49 residents. While Roland is a new arrival, other residents have been there for 15 or more years. One resident arrived in 1985 just after the official opening of Crossroads. The second-longest resident has been living at Crossroads since 2008.
Activities and programming are a highlight of the day. Brian enjoys going outside for walks, playing Bingo, and participating in other activities. "For Valentine's Day we decorated cookies, those were delicious," he said.
Doug has lived at Crossroads for many years. He spends each spring waiting for warm weather so he can plant vegetables and flowers in his garden. He enjoys sharing the fruits of his labor with the other residents.

Another resident, Warren, uses his artistic talents to create paintings and drawings that brighten the walls of Crossroads. He enjoys spending time with the other residents and appreciates the interns and volunteers that come and help with activities.
Crossroads is more than a residence. It's home. A safe, welcoming place where men are able to live with the supports needed for their physical or mental health needs. It is a home that provides meals, compassionate support, and comprehensive help with an assortment of daily living challenges.
Warren says that when he came to Crossroads he was struggling with his physical health. Since arriving five years ago, he has had two knee replacements and cardiac surgery. He jokes that while he has been at Crossroads he has become quite bionic! "When you are recovering from surgery, you need help," he says. "I was able to go to [physical] rehab and then come back here. I like living here, and I am alive because I am living at Crossroads."
Interested in helping our Crossroads Residents?
You can put love into action by giving a financial gift today!