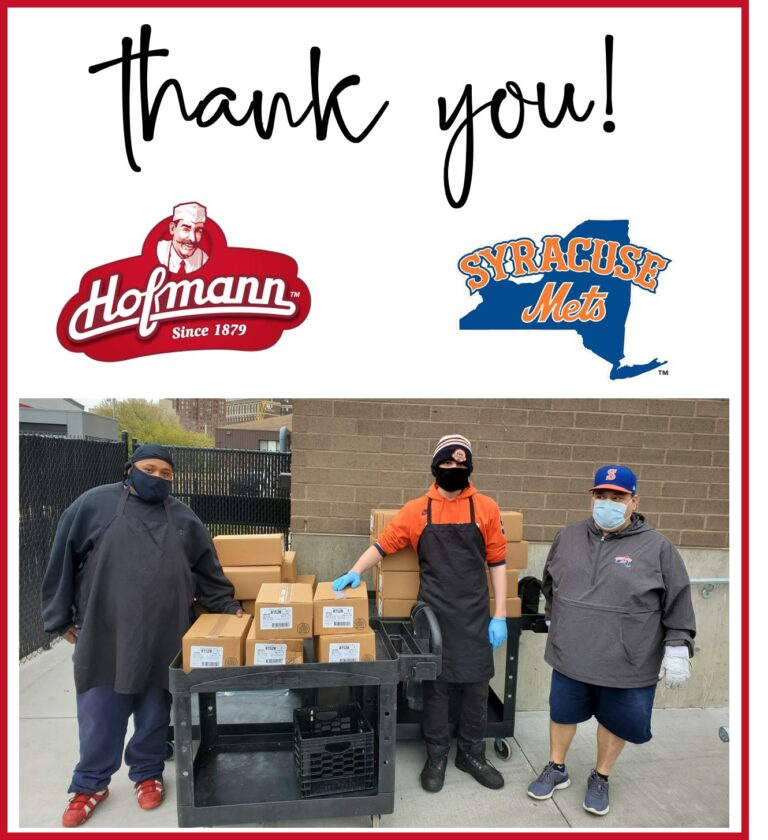 Syracuse Mets Donate 300 Pounds of Hot Dogs!            
The Syracuse Mets and the Hofmann Sausage Company have hit it out of the park with their donation of 300 lbs of foot long hot dogs to the Rescue Mission.
While the ballpark is closed due to the coronavirus crisis, Mets General Manager Jason Smorol had still been in contact with their suppliers and contacts.
Chief Marketing Officer for Hofmann, Rebecca Baker, had reached out to Smorol to see if anyone might be able to use a bulk supply of hot dogs. Smorol mentioned the Rescue Mission.
"We're so involved with the community. Every day we do something," Smorol said. "It's just nice to be in a position like this to be able to make those connections. It seems like everyone is doing something, and I think that is really the gratifying part."
The Mets delivered the hot dogs from the Hofmann Sausage Company to the Rescue Mission in mid-May. A total of 1,200 foot long franks will benefit those who are receiving meals during the coronavirus crisis.
The Rescue Mission and Syracuse Mets partnered last season, and were to resume this season prior to the hiatus for the coronavirus crisis, on the 50/50 raffle during each home game. The draw proceeds from each raffle benefit the Rescue Mission to help fund programs.