Spiritual Life
At the Rescue Mission, our doors are always open. Wherever you are in your faith journey, the Rescue Mission Spiritual Life team is here to serve your needs. We offer worship and fellowship opportunities, outings and events, or a listening ear to all.
Meet the Team
Reverend Yulon Jones is our Chief Spiritual Life Officer. Having served at the Rescue Mission for over a decade, Rev. Jones understands the trauma and needs of those among us experiencing hunger and homelessness. His compassionate nature allows him to connect with people from all walks of life.
In May 2023, Reverend Tom Zahradnik joined the Rescue Mission Spiritual Life team as Associate Chaplain. Before coming to the Rescue Mission, Tom worked as a pastor, police chaplain, community chaplain and government chaplain. He is an ordained minister and endorsed chaplain with the Assemblies of God. He also has 30 years of experience in radio and television, and once served as CEO for a nonprofit Christian radio network based out of Kingston, NY.
Interested in learning more about the Rescue Mission or getting your church involved with our efforts?
Contact Yulon Jones at 315-876-4387 or Yulon.Jones@rmsyr.org
Contact Tom Zahradnik at 315-701-3804 or Tom.Zahradnik@rmsyr.org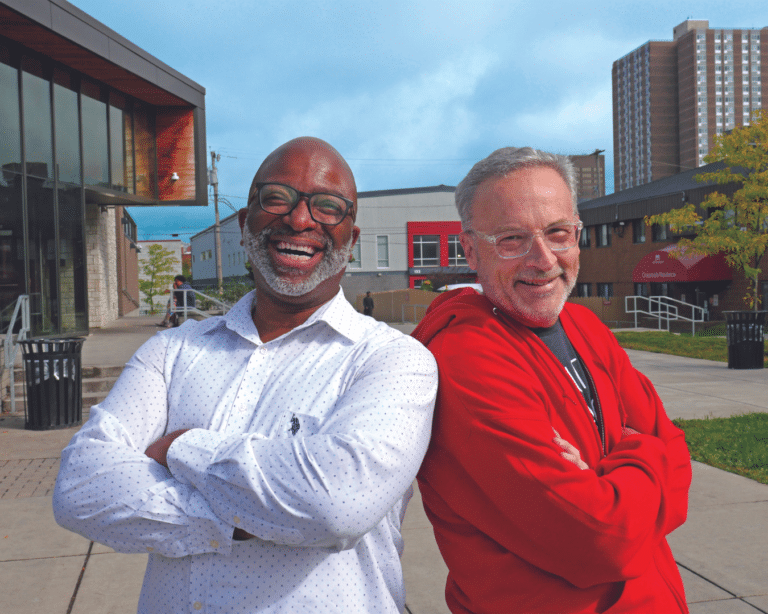 Ministry Hours
(All Events take place in The Multi-Purpose Room – 148 Gifford Street, Syracuse)
Chapel Service
Sundays: 9:00-10:00 a.m.
*
Morning Inspirations
Mondays, Tuesdays, Wednesdays & Fridays: 9:00-10:00 a.m.
*
Father's + Men's Group
Tuesdays: 2:00 – 3:00 p.m.
*
10:10 Life Group Bible Study
Wednesdays: 10:10 a.m.
Make a Gift Today!
All gifts directly support the Rescue Mission's spiritual life programming in Syracuse, Auburn, and Binghamton.