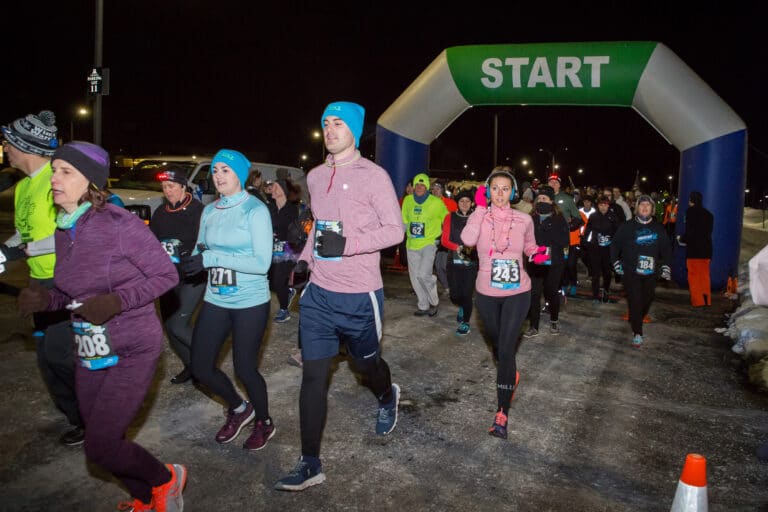 This year's Freeze Out 5K, a glow-in-the-dark USATF-certified and timed 5K run, raised $33,352.98 at the Syracuse event and $17,017.00 at the Binghamton event to benefit the Rescue Mission Alliance.
Runners gathered in mid-February on two cold evenings but there was no snow this year for the race. This year 420 runners braved the chilly weather in Syracuse at Onondaga Community College, and 146 participants raced the following week in Binghamton at Highland Park. Participants got their glow on coming decked in glow-in-the-dark items and fun costumes, ready to run and walk to raise money for the Rescue Mission.
First year participant Elizabeth Russell explained her enthusiasm for the Freeze Out. "We really love the work they do," she said "They
put on a really fun party, so we wanted to enjoy that, and we wanted to come and just help their mission by being out here and showing support."
Syracuse had Mere Mortals back this year to provide great music for the after-race party. Participants in Syracuse and Binghamton also had the chance to sample yummy food and drink samples and buy tickets for basket raffle prizes donated by the local community. Everyone who registered received a bib number, long-sleeve T-shirt and a medal.
"Runners and walkers loved the energy of the event and a lot of them said they were coming back next year," said Gina Rapasadi, Director of Special Events, "For the age group prizes this year we had neon winter hats that everyone loved!"